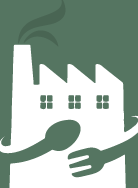 Good manufacturing practices are applied in all transformation processes of foodstuffs and their handling. These are the  procedures, instructions and regulations that an organization apply for the production of healthy food for its customers.
A BPM system takes into account:
1. the correct staff hygiene
2. staff health monitoring
3. Control of cleaning and disinfection of utensils, furniture, and miscellaneous equipment.
4. the control of suppliers
5. Maintenance of equipment, tools, etc.
6. staff training
7. cleaning and sanitizing programs
8. The calibration of measuring instruments
9. Storage Practices of raw and finished products
10. The cold chain monitoring
Certification benefits
The GMP certification enables the following benefits:
• Ensure the production of healthy and safe food
• Improve food safety, traceability and product quality
• Generate new sales opportunities and access to new markets
• Add value to products, increasing customer confidence
• Improve the application of HACCP and the Management Systems (Quality food security, environment, etc ..)